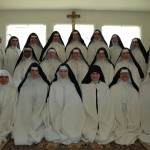 The late Most Rev. John Steinbock, in one of his final acts as Bishop of Fresno, approved the foundation of the Norbertine Sisters of the Bethlehem Priory in Tehachapi.
The cloistered sisters, who now are 20 in number, began in 1996 as a group of lay women who wanted to become Norbertine canonesses. This past Saturday, they were officially erected as a part of the worldwide Norbertine family.
They rented a house in Portola Hills across from the abbey, and began living an apostolic life of prayer together. In 1998, the five original members received their habit in St. Michael's Abbey church and moved to a temporary house–the former convent at the parish of Immaculate Heart of Mary in Santa Ana, where they were warmly welcomed.
After a piece of land was procured for them in Tehachapi, a group of helpers, both Norbertine and lay, helped prepare the housing on the new property, situated in the low Sierra–a stunning setting. The sisters grew rapidly in this secluded site, living a cloistered life of prayer and manual labor.
Nine of the twenty made solemn vows in the Cathedral of St. John on Saturday. The Norbertine Abbot General, Thomas Handgretinger, was on hand from Rome to officiate at the Mass, and the sisters gave their vows to Fr. Eugene Hayes, Abbot of St. Michael's and founding prelate.
What a great day for the Catholic Church in California and for the Norbertines throughout the world!