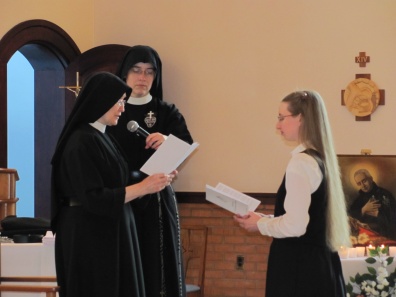 Yesterday we received a letter from our delightful daughter, Sr. Mary Kate. This one was special as it's the last letter we will receive from her until after Easter.
One area of  discernment and discussion among the postulants is the new religious name they will receive upon entering the novitiate this summer. The postulants have considerable input on this, though the final decision comes from the mother superior.
Anyway, Sr. Mary Kate said that she and some other postulants had fun one afternoon coming up with a list of names never to take–a process of elimination, of sorts. So, for your amusement, here are some of the names they came up with:
Sr. Rosary Bede (after Venerable Bede, of course)
Sr. Polycarp Esther (or Sr. Polyesther, for short)
Sr. Chrysostom Chrysologus
Sr. Esther Sylvester
Sr. Dies Domini (although every Sunday would be her feast day!)
Sr. Michael Jordan
Sr. Immolata Victima Sanguine (one of the professed suggested this, with a straight face, to a peppy, personable postulant)
Can you come up with any other religious names to avoid?