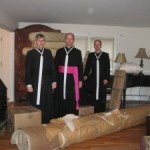 Check out this exclusive interview with Fr. Elias Carr, Fr. Daniel Nash, and Fr. Bruno Semple of the Canons Regular of St. Augustine, courtesy of Catholic Lane.
These priests have just established a new American foundation: the Canonry of St. Leopold, in Long Island, New York. Click here for the second part of the interview and for more information on supporting their mission. You may also check them out on Facebook.
The canons' blending of community life with diocesan ministry offers new possibilities for U.S.-based priests.