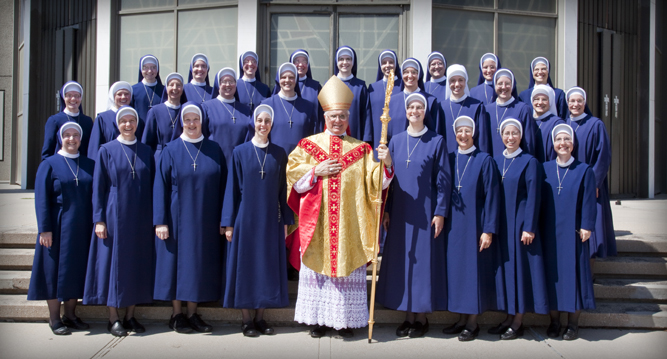 Looking for ideas on how to celebrate Halloween/All Saints Day? Check out the School Sisters of Christ the King, based in the Diocese of Lincoln.
On Sunday afternoon, October 30th, the sisters are hosting at their motherhouse a "Super Bowl of the Saints" in honor of All Saints Day. (Locals are instructed to follow the red balloons to get there!)
Entire families are invited, as the festivities include activities for all ages. Children are encouraged (but not required) to wear their favorite saint costume, as everyone in attendance will be encouraged to learn from the saints how to respond to the Heart of Jesus.
This dynamic, relatively new (founded in 1976) community of sisters has a beautiful "apostolic mission":
"Responding to the call of Christ and His Church, we, the School Sisters of Christ the King, strive to bring about the reign of Christ through the apostolate of Catholic education. As Brides of Christ, daughters of the Church and Mothers of Souls, we devote ourselves to reflect His love, teach His truth and form His image in souls in the schools of the Diocese of Lincoln."
The Sisters belong "totally to the King," as they reverence Christ as King in the Crib, on the Cross, in the Blessed Sacrament, and reigning in Heaven, and this wonderful charism has attracted many young women to this community. If you know someone who might be interested, the Sisters regularly offer "Come and See" retreats.
The Institute on Religious Life is proud to number the School Sisters of Christ the King among its affiliate communities.