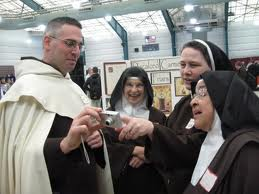 On October 14, 2011, Franciscan University of Steubenville will host nearly 100 national and international religious communities and dioceses at its annual Religious Vocations Awareness Day, the largest vocations fair in the country.
"Vocation Awareness Day is a great time to connect with Catholics from different traditions and to see the many ways it is possible to follow Jesus," says Father Rick Martignetti, O.F.M., director of Franciscan University's Priestly Discernment Program. "Our students always find it inspiring to participate and the vocation directors are renewed by witnessing the active faith life on our campus."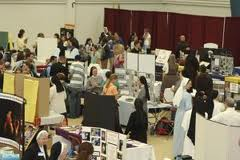 Religious Vocations Awareness Day will take place in Finnegan Fieldhouse from 10:00 a.m. to 4:00 p.m. The event is free and open to the public. It features religious orders from eight major spiritualities, including Franciscan, Benedictine, Ignatian, Salesian, and Carmelite. Among the many dioceses to be represented are Arlington, Chicago, New York, Greensburg, Pittsburgh, and Wheeling-Charleston. Some vocation directors will come from as far away as Spain and Canada.
Attendees can stroll among the displays while learning more about the charism and apostolic mission of each order.
For more information, contact the Priestly Discernment Program at 740-283-6495 or e-mail vocationsday@franciscan.edu.