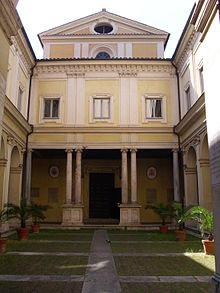 During World War II, the Camaldolese monastery of San Gregorio Magno al Celio in Rome hid Jews, anti-Fascist political figures, and "after Mussolini's capitulation, even a few trembling, formerly influential, figures of the Fascist regime," according to L'Osservatore Romano, the Vatican newspaper.
The monastery's chronicler wrote at the time:
"Jews–who were being sought to be locked up in those death camps known as concentration camps and who were divested of all their possessions–asked to be hidden, as did politicians who did not wish to collaborate with the reborn Republican Fascism; men who had escaped from the prisons and jails that had been opened for them as political offenders on 26 July; officers who were loath to belong to an army that was betraying national and popular principles; soldiers who sought refuge to avoid being deported to distant places; soldiers of the Anglo-American forces, prisoners of war who had managed to flee in the moment of confusion, and there were even a few Austrian and Polish soldiers who belonged to the German army."
The Camaldolese are a joint order of hermits and cenobites, founded by St. Romuald at the beginning of the eleventh century.
Courtesy of Catholic Culture.