This month's issue of the Liguorian (July/August 2012) has an interesting article about bells. I never gave them much thought until our parish put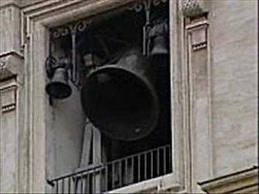 bells into our belfry at the kind bequest of a parishoner.  All of our bells have names and are used regularly. When my mother-in-law died, I particularly remember them tolling mournfully which was actually very moving.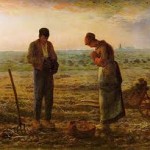 The article says that bells were used to call monks to prayer (c. 400) and people to mass (c.600). Later they were rung during consecration alerting people in the fields of the miracle taking place on the altar so they could make an act of adoration or come to receive communion. Holes sometimes cut out of the floor of the bell tower allowed the priest bell ringer to see what was going on. Bells are still used today in the form of the small Sanctus bells rung by altar servers. Church bells are not rung from the Gloria at the Mass on Holy Thursday until the Gloria sung at the Easter Vigil.
One of the most common uses of the bells was to alert people to say the Angelus (see famous picture left). Usually it was a triple stroke repeated three times. (Click here to hear a sample from Wexford, Ireland) Appropriately enough, the bells were often dedicated to St. Gabriel.
The Catholic Cathedral in Cologne Germany has the largest free standing bell in the world at 24 tons. It's name is St. Peter. Click here if you want to hear the bells of St. Peter's in Vatican City tolling when a new Pope is elected. We are fortunate to hear the bells of Marytown tolling  through the walls of the IRL office. They are tolling right now announcing the ten o'clock hour.