You know the times in which we live; they are scarcely less deplorable for the Christian religion than the worst days, which in time past were most full of misery to the Church. We see faith, the root of all the Christian virtues, lessening in many souls; we see charity growing cold; the young generation daily growing in depravity of morals and views; the Church of Jesus Christ attacked on every side by open force or by craft; a relentless war waged against the Sovereign Pontiff; and the very foundations of religion undermined with a boldness which waxes daily in intensity.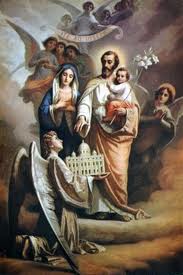 That God may be more favourable to Our prayers, and that He may come with bounty and promptitude to the aid of His Church, We judge it of deep utility for the Christian people, continually to invoke with great piety and trust, together with the Virgin-Mother of God, her chaste Spouse, the Blessed Joseph.
In giving Joseph the Blessed Virgin as spouse, God appointed him to be not only her life's companion, the witness of her maidenhood, the protector of her honour, but also, by virtue of the conjugal tie, a participator in her sublime dignity. And Joseph shines among all mankind by the most august dignity, since by divine will, he was the guardian of the Son of God and reputed as His father among men. Hence it came about that the Word of God was humbly subject to Joseph, that He obeyed him, and that He rendered to him all those offices that children are bound to render to their parents.
And for such reasons, the Blessed Patriarch looks upon the multitude of Christians who make up the Church as confided specially to his trust – this limitless family spread over the earth, over which, because he is the spouse of Mary and the Father of Jesus Christ he holds, as it were, a paternal authority. It is, then, natural and worthy that as the Blessed Joseph ministered to all the needs of the family at Nazareth and girt it about with his protection, he should now cover with the cloak of his heavenly patronage and defend the Church of Jesus Christ.
Excerpted from Quamquam Pluries – ENCYCLICAL OF POPE LEO XIII ON DEVOTION TO ST. JOSEPH