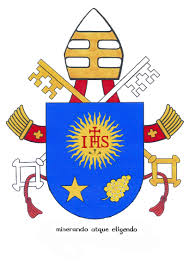 Pope Francis has chosen to retain his episcopal motto, Miserando atque eligendo, for his Papal coat-of-arms. In English it means: Because He saw him through the eyes of mercy and chose him. Taken from a homily by the Venerable Bede, the phrase comes from the Gospel of Matthew (Mt 9:9-13) who wrote about Jesus' calling of Matthew, the tax collector. Jesus tells him, "Follow me."
St. Matthew has a special significance for Pope Francis for it was on the Feast of Saint Matthew in 1953 that the seventeen-year-old Jorge Bergoglio was "touched by the mercy of God and felt the call to religious life in the footsteps of Saint Ignatius of Loyola," as reported by Vatican Radio.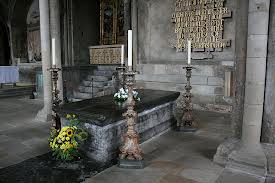 The Venerable Bede (d. 735) wrote the classic treatise: "Ecclesiastical History of the English People" which outlines the history of Christianity in Britain from its beginnings up to his present time. Long after his death, he was proclaimed a Doctor of the Church by Pope Leo XIII in 1899. I had the good fortune of stumbling across the Ven. Bede's grave in northern England while on vacation. It is located in beautiful Durham Cathedral, a Romanesque Church which was once Catholic. On the Cathedral website it says : It is the only cathedral in England to retain almost all of its Norman craftsmanship, and one of few to preserve the unity and integrity of its original design. The Cathedral was built as a place of worship, specifically to house the shrine of the North's best-loved saint, Cuthbert, in whose honour pilgrims came to Durham from all over England. It was also the home of a Benedictine monastic community. In fact, the Ven. Bede was a Benedictine monk.
The Venerable Bede said, "(Jesus) saw the tax collector and, because He saw him through the eyes of mercy and chose him, He said to him, 'Follow me.' This following meant imitating the pattern of His life – not just walking after Him…This conversion of one tax collector gave many men, those from his own profession and other sinners, an example of repentance and pardon….Matthew drew after him a whole crowd of sinners along the same road to salvation."