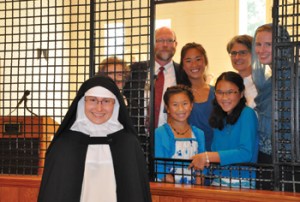 Christendom College has seen an extraordinary number of young women enter religious life. One beautiful story is that of  Sr. Mary Jordan, O.P. (Ida Friemoth, '05), now a member of the Dominican Monastery of St. Jude in Marbury, Alabama, who made her Solemn Profession as a cloistered Dominican nun in August of 2012.
She chose to attend Christendom College because she desired to learn Truth, especially the truths of Thomistic philosophy and theology. The great Dominican, St. Thomas Aquinas, and his teachings were "an incomparable preparation for our doctrinal study as Dominican nuns, and even more so for understanding and living the virtuous life."
For Sr. Mary Jordan, her time at Christendom was her first exposure to the Latin Mass and Gregorian Chant. When she visited the Monastery of St. Jude for the first time and heard the Divine Office sung in the traditional Dominican chant, her heart soared; "God was using the liturgical formation I received at Christendom to point out to me where He wished me to be His."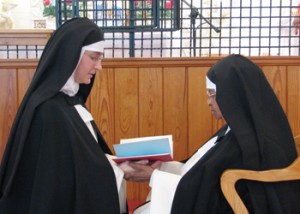 At Christendom, she learned that the highest use of anything is to dedicate it to God. Now her whole life is dedicated to Him and as such, concerned and praying for the whole world. Every day the nuns at the monastery take turns keeping an Hour of Guard, praying the Rosary before Our Lord in the Blessed Sacrament as Our Lady's Guard of Honor. Someone is always there, in the chapel; interceding for the world.
Sr. Mary Jordan said, "I have discovered in the monastery the truth of what Peter Kreeft once said: that perhaps the most powerful warriors in the fight between the Culture of Life and the Culture of Death are the contemplatives spending hours a day in prayer before the Blessed Sacrament."
For more information about the Dominican Monastery in Marbury whose common life includes the solemn celebration of the Liturgy, Eucharistic Adoration and Perpetual Rosary, Marian Consecration, and fidelity to the Magisterium of the Church, visit their website.