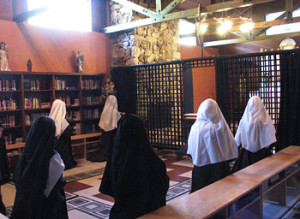 A year ago, I wrote about a new cloistered Carmelite community that was being established in the Diocese of Oakland. A daughter house of the Carmel in Valparaiso, Nebraska, the Carmel of Jesus, Mary and Joseph is the only contemplative community in the Oakland diocese.
On October 1, the Feast of St. Therese of Lisieux, Bishop Michael Barber, S.J., of Oakland celebrated Mass with the nuns. He told them that their vocation is similar to the Beloved Disciple, Saint John, saying, "You are the ones who recline next to Christ at His breast at the table at the Last Supper, you are the ones who have that intimate place with Him, by giving your life to Him and coming into the walls of this monastery. You are the ones that people, priests and bishops come to."
The bishop spoke from the heart for his association with the Carmelites goes way back.
When he was a little boy, his grandmother and aunts would take him to the Carmel of Cristo Rey (an IRL Affiliate community in San Francisco). There he noticed a bowl next to a statue of St. Teresa of Avila in which petitions were placed. Later, as a young man hoping to be accepted into the Jesuits, he wrote out his own petition. Twelve years later another prayer request went in, asking that his ordination to the priesthood be approved. Finally, as a chaplain going to Iraq, he asked the sisters to pray that he and his 3000 marines would be safe during the deployment. Not one of his men was killed.
In a beautiful article in The Catholic Voice, it states that the sisters normally have six lit candles on the altar during Mass. The seventh is lit when the bishop comes. What a beautiful tradition. According to the General Instruction of the Roman Missal, 79: "On or near the altar there are to be candlesticks with lighted candles, at least two but even four, six, or, if the bishop of the diocese celebrates, seven."
The Carmelites, said the bishop, are looking for "land on which to build a new monastery or an existing building that could be converted." They try to be self-sufficient and simple, growing their own vegetables and raising farm animals for milk and eggs. The sisters are vegetarians.
Mother Sylvia Gemma has welcomed their first postulant with another expected within the next few months. Said the bishop: "There are women, 500 years after St. Teresa of Avila, who are still giving their all to God."