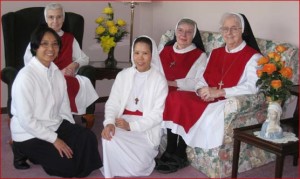 Today, the Sister Adorers of the Precious Blood are celebrating the Golden Jubilee of their foundation in Watertown, New York. Bishop Terry LaValley of Ogdensburg will offer Mass in thanksgiving. Seven sisters came to Watertown from their newly built monastery in Manchester, New Hampshire in 1963 at the invitation of Msgr. R. J. McCarthy who had a deep devotion to the Precious Blood of Jesus.
The sisters also rejoice today as Sister Mary Pham receives her Habit during this Jubilee Mass at St. Patrick's Church. Sister Mary was born in Vietnam in 1966 and vividly remembers the explosions of bombs and the firing of guns as Saigon fell to the Communists. Even though her parents had only a grammar school education, they were determined to give their children a good education and a country where they could practice and openly keep their Catholic faith.
So her parents sacrificed their own family life in order to make this happen. Mary and 3 of her siblings became part of the "boat people." They and 54 others went by river and ocean in two small fishing boats in the hope of reaching Thailand. Mary was in one boat and her 2 brothers and sister were in another. She was teary-eyed as she left her parents, siblings, friends and country for the unknown.
When the reached the ocean, the tiny craft waddled like humpty dumpty in the waves and everyone was sick. When gun shots were fired at the vessel, they became separated from the other boat. Later she learned that it had been captured by the Communist Vietnamese Coast Guard but bribes bought their freedom. After 5 days on the ocean, Mary's boat reached Thailand and she was taken to a refugee camp. It would be five months before she was reunited with her siblings. All four of them arrived in California in 1981 to live with an aunt. It would not be until 1992 that Mary was reunited with her parents and the rest of her brothers and sisters, the year she graduated from college.
Her vocation story is a whole other story. Sr. Mary says of today, "I would not have the joy of being where I am – or being who I am, today, had I not endured the past."