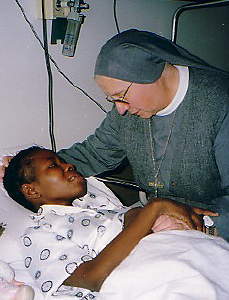 In a new book called "The Little Flowers of St. Francis," by Andrea Tornielli, Pope Francis relates how his life was saved many years ago by a nun. At the time, he was 21 years old and suffered from three cysts in his lung, requiring the removal of part of the lung. The doctor put him on antibiotics but a nun increased the dose because, as he said, "The nun who was on the ward tripled that because she had an intuition, she knew what to do, because she was with the ill all day long."
A lesson to ponder. The closer we are to suffering, the better we will know what to do. God came down and dwelt amongst us to show us the way, the truth and the life.
Jesus said, "I am the way and the truth and the life. No one comes to the Father except through me" (John 14:6).