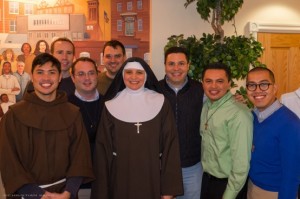 On November 23, 2013, the Capuchin Poor Clares of Wilmington, DE, as well as family and friends had the joy of witnessing Sr. Veronica de Jesus Amaya's First Religious Profession. Sr. Veronica's reception of the black veil, which replaced her white one, symbolized her total consecration to Jesus Christ and her death from the world.
Posted on the internet a day later, was the recording of the death of Sr. Maria Imelda Valencia, OSC Cap., a sister in the same monastery who died on November 4 at age 81.
Sr. Imelda entered the Capuchin Poor Clares in Mexico at the young age of thirteen and learned how to make hosts, sew vestments, play the organ, cook for the community and do laundry. Sr. Leticia writes that, 800 years after St. Clare: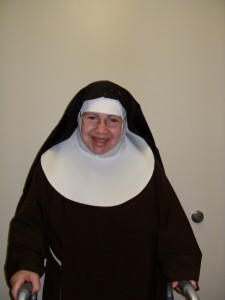 Maria Imelda followed the dream of Clare to live her life totally and exclusively for God.  She wanted to embrace in her arms the God made flesh, and wanted His crucified body to be comforted by her friendship and love.  In her prayer, she was more in touch with humanity than most of us.  God let her hear the cry of the poor and the suffering.  They became loud in her silence.  Their pain became real for her.  Jesus was continuing His Passion in the sufferings of humanity, especially the least among us.  She comforted Jesus in His sorrow by raising up to the Father all those who needed grace in their lives.
Sr. Maria Imelda thought she would live and die in her convent in Mexico. But when volunteers were asked in 1986 to travel to America to begin a new foundation near the Capuchin friars, Sister Maria Imelda, at age 54 was one of eight sisters to embark on the journey. As Sr. Leticia writes:
Sr. Imelda never had the facility to learn English; nevertheless, she found an incredible joy and peace in her new home in Delaware.  As St. Augustine says, "In His will is our peace".  Can you imagine never understanding a word the preacher is saying, or participating in a conversation, always needing a translator?  What sacrifice!  But for Sr. Imelda, it was just another way of dying to herself so that Christ will rise.
May she rest in the peace of her Spouse whom she longed to see.