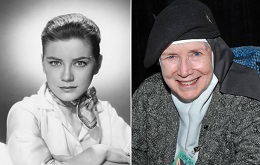 Dolores Hart was a rising starlet in the 1960s, with a Broadway play and ten highly successful movies to her credit. Then, she made a shocking decision: Hart left the glitz and glamour of Hollywood and entered the contemplative Benedictine monastery of Regina Laudis in Bethlehem, CT.
Now, 50 years later, Mother Dolores Hart, O.S.B., will be speak on her vocational journey and the spiritual wisdom she gained by becoming a consecrated spouse of Christ on April 25-27, 2014, during the Institute on Religious Life's National Meeting, at the University of St. Mary of the Lake in Mundelein, Illinois. Registration is required to attend the three-day event.
Mother Dolores will give three talks at the IRL's National Meeting. On Friday, April 25, she will address only religious, priests and consecrated persons at 11:00 a.m. On Saturday, April 26 at 1:30 p.m. she will be speaking exclusively to young people, ages 15-25, candidly sharing the story of her vocation. In the evening, Mother will give an after dinner address to those attending the IRL banquet which will honor Msgr. James C. Turro, recipient of the 2014 Pro Fidelitate et Virtute award.
Saint Luke Productions' latest live drama, Faustina: Messenger of Divine Mercy, will be performed as part of the weekend's events. The meeting will feature many other fine speakers including Very Rev. David Wilton, C.P.M, Dr. Timothy O'Donnell, Sheila Liaugminas and Mother M. Julie Saegaert, S.C.M.C.
All are invited to be part of this special weekend, co-sponsored by Ignatius Press, celebrating the 40th anniversary of the Institute on Religious Life. You can read Mother's story in a book published by Ignatius Press: Ear of the Heart: An Actress' Journey from Hollywood to Holy Vows.
For more information or to register, visit ReligiousLife.com or call the IRL office at 847-573-8975.