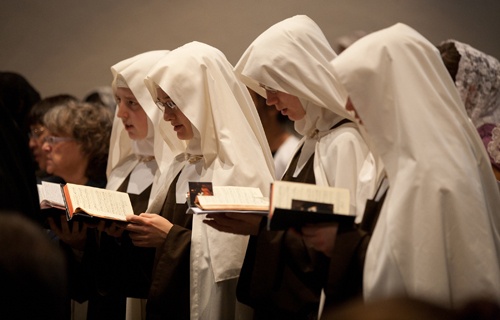 The Discalced Carmelites of the Oakland diocese have a new home! After coming to the diocese in 2012, the Carmelites of the Carmel of Jesus, Mary and Joseph have been living in temporary quarters at St. Monica's Parish in Canyon, CA. Now, thanks to a generous benefactor, the twelve Carmelites will have a permanent home (see complete story).
This is not just any home! It is a Spanish-style, 60-room mansion that was built in 1925. From the west side of the home, there are panoramic views of San Francisco Bay and Golden Gate Bridge. In the late 1940's, it became the home of the Carmelite community of Berkeley who sadly had to disband because of low numbers. Of the four remaining nuns, two went into a nursing facility and two others moved in with another Carmelite community. The house was for sale and was sought after for a variety of uses. Happily, it will remain a place of prayer.
As I have mentioned before, this monastery is a foundation from the Carmel in Valpraiso, Nebraska. The Nebraska Carmel was founded in 2001 and this will be their 2nd foundation, the other being Elysburg, Pennsylvania (2009). The Tridentine masses are typically celebrated at the Carmel and the Liturgy of the Hours is also in Latin. I also read that they use the Rite of the Holy Sepulchre or "Carmelite" Rite, the first Discalced Carmel to do so since 1588.
St. Teresa of Avila, foundress of the Discalced Carmelites, pray for them.