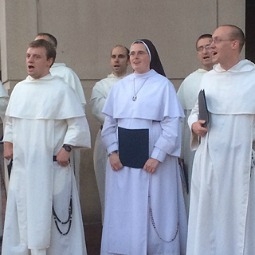 When you see a group of people singing "Lean on Me" on a busy city street, you might think it is a throwback to the 1970's. However, this group of singers are Dominican friars and sisters who took to the streets of Washington, DC, on May 17th to do a little street evangelization.
The friars are from the Dominican House of Studies, while the sisters came from Ann Arbor, Michigan, and the Dominican Sisters of Rosary House.
For the Dominicans, this was their way of spreading Easter joy. While they handed out rosaries and pamphlets explaining this prayerful  way of meditating on Scripture, they drew people in by engaging them in song. It was a way for an encounter with Christ to take place.
"Music is such a beautiful expression of Gospel joy that it just 'clicks' for people," said Dominican Brother Gregory Pine. Music is a way of "re-presenting the attractiveness of the Gospel in another medium." Brother Norbert Keliher said that the music and the rosary are a "doorway for evangelization."
To see this energetic group in action, go to YouTube to watch their rendition of "Lean on Me!"
You can support the young Dominicans friars of the  Province of St. Joseph by purchasing their first release from Dominicana Records, In Medio Ecclesiae. In Medio Ecclesiae offers chant and polyphonic treasures of the Church's musical tradition as well as two new compositions by Dominican friars. Click here to listen to the Good Friday meditation: O vos omnes ("O all you who walk by on the road, pay attention and see if there be any sorrow like my sorrow.")