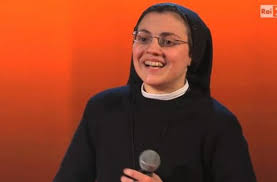 Ursuline Sister Cristina Scuccia was the landslide winner on the Italian show The Voice which features singers ala American Idol I guess!! Click here to hear some of the songs which sent her to the winner's circle.
After winning the top prize, Sister Cristina led the startled crowd in prayer, a crowd that included her atheist voice coach, rapper J-Ax who warned her that he and the other "bad-boy" coach on stage "will burst into flames."
Sister Cristina's version of the Alicia Keys' song: "No One," had 51 million views! Pretty amazing for a woman in a habit!