As one living in the cold and snowy Midwest, getting up at midnight on a dark winter night is not something I relish. I have to be really motivated to leap out of a warm bed. Imagine doing that every day, every week, every year for eighty two years! That is what Sr. Mary Bernadette of the Poor Clare Colettines in Kokomo, Indiana, has been doing since 1932!!!
The oldest Poor Clare nun in the U.S., Sister Mary Bernadette celebrated her 100th birthday on June 29th. One man, who has known her his entire life, said, "Over the years, I've learned that Sister Bernadette is the kind of person who lends an ear to you, but then gets right to the point. You can talk to her about any subject, and she always knows what kind of medicine you need. She's a spiritual doctor."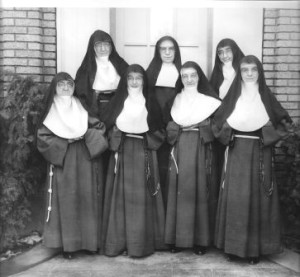 Sister is an Extern Nun who greeted visitors, answered the phone and performed necessary errands. She joined the Poor Clares despite her father's strong objections and found the Poor Clare life not that much different than life on the family farm for her family was poor anyway. She was one of the founding sisters who came to Kokomo from Chicago in 1959.
The Poor Clares in Kokomo are Colettines meaning that they embrace as their founders both St. Francis and St. Clare as well as St. Colette, their second mother. They rise at midnight for Matins (Midnight Office of Readings) and end the day with Compline (Night Prayer) at 9:00 pm. Of course, there is Lauds (Morning Prayer), Terce (Midmorning Prayer), Sext (Midday Prayer), None (Midafternoon Prayer and Scriptural Reading), and Vespers (Evening Prayer) in between. How comforting to know that they are praying when we are asleep or busy with our jobs or families.
Let us always regret that we have but one heart with which to love God, and that this heart is so poor and weak. but such as it is, God asks it of us! Let us give it to Him constantly and completely. Let Him have this poor heart for time and eternity – St. Colette
The Poor Clares sleep on straw mattresses atop of planks, do not eat meat, do not wear shoes