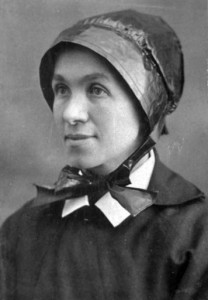 The Archdiocese of Santa Fe recently announced that it had opened the sainthood cause for Sister Blandina Segale, SC, the first Catholic in the history of New Mexico to receive such an honor. Sr. Blandina was born in Cicagna, Liguria, Italy, in 1850 and died in Cincinnati, Ohio in 1941. Her family immigrated to Ohio when she was 4 years old.
A member of the Sisters of Charity of Cincinnati since 1866, Sister came to Colorado in 1870's where she taught poor children and later transferred to Santa Fe where she co-founded schools and helped the disadvantaged, sick, immigrants and and Native Americans.
Her life is also the stuff of legend (see Crisis magazine article). She personally knew Billy the Kid and her efforts to save a man from a lynch mob became an episode on the old Western show, Death Valley Days ("The Fastest Nun in the West"). Letters she wrote to her sister resulted in a book called:  At the End of the Santa Fe Trail.
It is believed that she talked Billy the Kid out of scalping four doctors who refused to treat one of his companions. She was also in a covered wagon that Billy intended to rob. When he saw that Sister Blandina was inside, "He just tipped his hat and left," said Archbishop Michael Sheehan.
"There are other holy people who have worked here," said Allen Sanchez, president and CEO for CHI St. Joseph's Children in Albuquerque, a social service agency Segale founded. "But this would be a saint (who) started institutions in New Mexico that are still in operation."