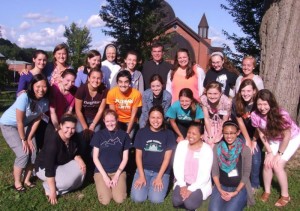 For the past few months, we have been blessed to have a summer intern, Christina Pezzella, working with us in the office. She is eagerly counting down the days until her entrance into the Dominican Sisters of Mary, Mother of the Eucharist. The date of entrance is August 28th but she has one huge stumbling block to overcome—her student loan debt.
Christina graduated from Hillsdale College early in December 2010. At the time, she said, "I did not have any idea that the Lord would one day call me to the religious life. For this reason, I am faced with loans that I will not be able to pay off in time without assistance."
Her debt, which was initially over $60,000, has been reduced to approximately $20,000 thanks to the generosity of many people and a lot of hard work on Christina's part. She has given her vocation talk to numerous groups, held bowl-a-thons, and given her testimony on the radio. What is the price of a vocation? For her and for the Church, it is priceless!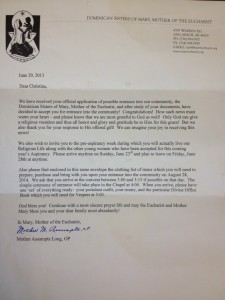 On the Feast of St. Dominic, Christina received the most joyous news. A benefactor has agreed to match all donations up to $10,000. This generous gift will enable her to enter on August 28th IF she is able to raise the remaining $10,000.
She humbly asks you, and anyone you may know, to prayerfully consider making a contribution to her vocation fund, which will be matched 100%! This will double any gifts. To make a contribution, or to find out more information about her vocation story, please visit her blog: www.TheLifeCatholic.com.
Christina says: May God bless you abundantly… you are in my prayers!!!