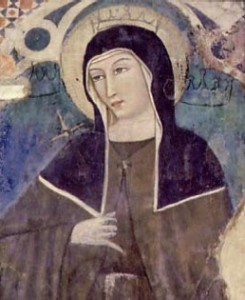 I can't remember where I read this but a bishop once asked a priest (I think Father Hardon, SJ) about vocation programs and asked, "What is the best way to attract priestly vocations?" The answer, "Become a saint, Your Excellency."
Holiness is attractive and it reminds me of our saint for today, St. Clare of Assisi. The foundress of the Poor Clares, the 2nd Franciscans Order, Clare placed her life into the hands of St. Francis of Assisi in 1212 at the age of about seventeen. Sixteen days later, her younger sister Agnes secretly left the family home to join her sister. Emissaries, sent by their angry Father, dragged Agnes by her hair out of the monastery.They abandoned her in a field because she was so unexpectedly heavy, something viewed as Divine intervention. Their mother, Blessed Hortulana, and younger sister Beatrice, later joined them and their cousin Ruffino was an early companion of St. Francis.  Holiness attracts.
So on this feast day of St. Clare, as we pray for our relatives who may seem far from the faith, let us invoke St. Clare and St. Agnes and ask for their assistance in helping us to become saints, so we can inspire our nearest and dearest to draw closer to the Lord themselves.
O dearest, look on heaven that invites us, and bear the Cross and follow Christ who preceded us; indeed, after various and many tribulations we shall enter through Him into His glory.  Love with your whole heart God and Jesus, His son, crucified for our sins, and never let His memory escape your mind;  make yourself mediate continually on the mysteries of the Cross and the anguish of the mother standing beneath the Cross.

—St. Agnes of Assisi