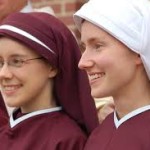 There is an excellent opportunity for young women (ages 18-30) who are discerning a call to become a bride of Christ to get help with vocational discernment and first-hand experience with religious communities during an upcoming Women's Discernment Retreat.
The retreat will take place on November 14-15, 2014, at Prairie Star Ranch, in the Archdiocese of Kansas City in Kansas. You don't have to be a local Kansan to participate!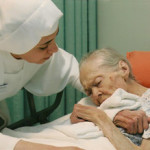 The main goal of the retreat is to help women learn tools for discernment of the Lord's will for their life.  The young women will have the opportunity to grow in community with one another, develop their understanding of discernment, and meet some of the consecrated women serving in the Archdiocese. The sisters will share their lives and discuss such topics as Poverty, Chastity, Obedience, Prayer, and Communal Life.
The communities represented include three IRL Affiliate communities: the Marian Sisters of the Diocese of Lincoln, the Sisters in Jesus the Lord, and the Sisters, Servants of Mary. Three other communities will also be present: the Apostles of the Interior Life, the Fraternity of Missionaries of the Poor of Jesus Christ, the Little Sisters of the Lamb. The retreat will be directed by Karen Lombardi, a consecrated virgin of the Archdiocese.
For more information and registration, visit the retreat house website (www.archkck.org/ranch) or contact them via email at psrministry@archkck.org or call 785-746-5693.