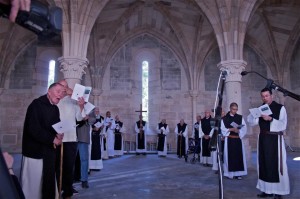 Traveling around Europe, especially in England, there is no sadder sight than an abandoned monastery. That is why is heartening to read about some old stones that have been restored to their original purpose.
It is an amazing and miraculous story….
The Cistercian (Trappist) monks of the Abbey of New Clairvaux in Vina, California, recently celebrated the reconstruction of an ancient Cistercian Chapter House on their grounds. Originally part of the Santa Maria de Óvila monastery in Spain, it was built between 1190 and 1220 AD.  The monastery was founded by King Alfonso VIII of Castile who had it built after recapturing the area from the Moors. It became a home for Cistercian monks who, following the Rule of St. Benedict, flourished for many centuries. By 1835, however, four monks remained and the monastery was closed.
In 1931, the newspaper tycoon William Randolph Hearst bought and brought part of the dismantled monastery stones to San Francisco with the intention of building a magnificent home to replace his mother's burned down house. However, with the onset of the Depression and his financial woes, the stones were given to the city of San Francisco with the hope that it would become a museum in Golden Gate Park. But this too never came to pass and the stones were left abandoned and decaying in the park.
In 1984, the monks convinced the city to give the stones to them so they could be used on their property for their true purpose—a place where God could be glorified and served. The Chapter House, when completed, will include a reception room, display area and archival library.
New Clairvaux Abbey was a daughter house of Gethsemani in Kentucky. They in turn became the motherhouse for Our Lady of Joy, a Cistercian monastery of exiled Chinese monks in Hong Kong.  Subsequently, in 1984, a new foundation, Holy Mother of God, was opened in Taiwan.  In 2001 New Clairvaux accepted "paternity" of Our Lady of Peace, a house of nuns located in Nicaragua. The CIstercian abbey is the only one in California.
The monks support themselves by growing prunes and walnuts and since 2005 growing grapes and producing their own wine. They also, with a brewing company, produce a Trappist-style beer called Oliva
New Clairvaux Abbey is named after Clairvaux in France, St. Bernard's founding abbey, the place where he was made abbot when only 25 years of age. When Bernard died in 1153, seven hundred monks lived at Clairvaux.  The abbey in Vina currently has 22 monks. May the New Clairvaux be blessed with holy and persevering vocations ala St.Bernard!