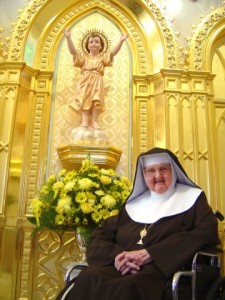 The Poor Clares of Perpetual Adoration in Alabama recently gave an update on Mother Angelica's health. As they relate in their newsletter, Mother is living a "life of silence in union with Jesus in His Sacred Childhood, with all His helplessness and dependence on others."
 "Although she is bedridden, Mother Angelica is strong and doing well. Our good Friars celebrate Mass in her room on Sundays, and each morning she receives our Lord in Holy Communion, the Divine Life that sustains her and gives her strength.
"Thirteen years ago on Christmas Eve, Mother said, 'Jesus is coming today and I am going to the Chapel to wait for Him.' It was there before Our Lord in the Blessed Sacrament that Jesus visited her with a stroke. Since then she has lived a life of silence in union with Jesus in His Sacred Childhood, waiting till He comes again.
"In her later years, before the stroke, Mother Angelica developed a great devotion and love for the Divine Child and it seems that Jesus wants her to experience His own Childhood with all His helplessness, totally dependent on others.
"So as she waits, Jesus continues to come to her in His hidden Presence in the Eucharist. It is Jesus who lives His life in her. With St. Paul she can say, 'It is no longer I who live, but Christ who lives in me.'" (Gal. 2:20)
The PCPA nuns were invited to the Diocese of Mobile in 1962. The Eternal Word Television Network (EWTN) was founded on August 15, 1981. In 1999, the Shrine of the Most Blessed Sacrament at Our Lady of the Angels Monastery in Hanceville, north of Birmingham, was consecrated. Mother suffered a severe stroke on Christmas Eve in 2001.
Bringing new life to their beginnings, sisters were sent to their original monastery in Ohio in 2002. They also sent sisters to help restart their "cradle" monastery in France. Two new foundations were begun in Tonopah, Arizona and San Antonio, Texas. And to think that Mother Angelica started EWTN with $200 in a garage. That's all it takes for the Lord to begin His work.
We pray for blessings on Mother and her sisters, EWTN listeners and viewers, in grateful thanks for all Mother has done for the IRL, religious life and the Church.