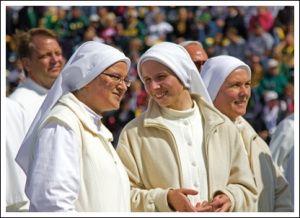 Last July, earth moving equipment began to level the ground in Silverado Canyon in preparation for the construction of the new abbey for the Norbertines, replacing the old one which is really bursting at the seams with students and vocations.
This past August, the California abbey welcomed six young men who are studying to become Norbertine canons. Three young women as well became the first Americans to enter the Nobertine sisters from Slovakia (Sr. Adriana, Sr. Roberta & Sr. Benedicta)  who reside in a convent nearby Wilmington.
The new abbey will include a church, convent, welcome area/meeting rooms, monastery and cemetery chapel. These buildings will comprise only a small portion of the hundreds of acres of the original Holtz ranch thus preserving an important part of the rural California landscape.
The Norbertine also have a cloistered community of Norbertine Canonesses that is growing rapidly in Tehachapi. The Norbertine Sisters of Wilmington are one of the newest branches on the family tree of the Norbertine Order founded by St. Norbert (1080-1134). They were founded in 1902 in the Czech Republic by Fr. Vojtech Frejka, a Norbertine Father from the abbey of Strahov in Prague. The Slovakian Norbertines reside in SS. Peter and Paul Convent in Wilmington, CA, which was established in 2011.
"Our congregation of Norbertine sisters in Slovakia received an invitation from the Norbertine fathers in California to help them establish a new community of Norbertine sisters in the United States," said Sr. Benedicta.
In Wilmington, they minister to needy families, teach religious education, and work in the Catholic book & gift store, and in the parish office. Like St. Norbert, they live a common life, "prepared for every good work," centered daily on the Mass and chanting of the Divine Office.