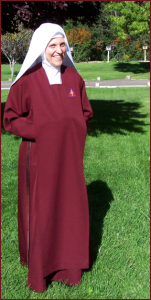 On October 17, 2014, the Handmaids of the Precious Blood agreed to the sale of their former Motherhouse in Jemez Springs, New Mexico, to the sovereign nation of the Jemez Pueblo. Rev. Mother Marietta, H.P.B., and the Pueblo's governor, Joshua Madalena, were the signers of the agreement, which had a closing date of December 31, 2014.
The New Mexico monastery of Cor Jesu, located in a rural area in the mountains between Albuquerque and Santa Fe, was home to the Handmaids of the Precious Blood for sixty-seven years. It was in 1947 that Father Gerald Fitzgerald founded the Handmaids to support the priesthood by their hidden lives of prayer and sacrifice, and daily Eucharistic Adoration. Father Gerald knew that "in strengthening the priest you strengthen the whole Church." The sisters visibly display this charism by the wearing of a wine-red habit, symbolic of the Precious Blood of Christ, and the white veil, symbolizing the white Host of the Eucharist.
With the sale, the sisters will have completed the move to their temporary home (though they are still working out some business and legal details for the transfer to Tennessee) on the grounds of Christ Prince of Peace Retreat Center in the diocese of Knoxville under the paternal care of Bishop Richard F. Stika. With the arrival of the five sisters from New Mexico and the presence of their newest member and first native Tennessean, Sr. Christiana, the sisters had a very joyous family reunion.
Bishop Stika said, "Their prayers and many sacrifices as a silent proclamation of the Gospel are the very 'soul and leaven' of the Church's evangelization efforts and works of mercy. Indeed, cloistered religious are truly indispensable co-workers in the mystery of redemption."