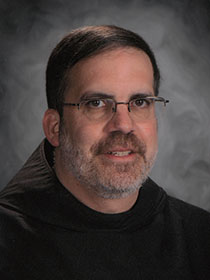 The Holy Father, Pope Francis, announced today the appointment of Rev. Fr. John Stowe, O.F.M. Conv., as the new bishop of the Diocese of Lexington, Kentucky. Most recently, the bishop-elect was provincial vicar of the "Our Lady of Consolation" Franciscan Conventual Province and rector of the Basilica and National Shrine of Our Lady of Consolation, Carey, Ohio. As an aside, the shrine was founded in 1875 and is known for a statue of Mary, a replica of the original, that was brought from the mother shrine in Luxembourg. The Conventual Franciscans have been the guardians of the shrine for over 100 years.
Bishop-elect Stowe was born in Amherst, Ohio, in 1966, professed his solemn vows in 1992, and was ordained a priest in 1995. He has served in a number of pastoral roles, including parish priest of the Our Lady of Mount Carmel parish in El Paso, Texas; vicar general of the Diocese of El Paso; and chancellor of the Diocese of El Paso.
The Diocese of Lexington is new, having been founded in 1988. It encompasses 50 counties in Central and Eastern Kentucky with 63 parishes and 48,000 congregants.
The Conventual Friars said this upon the announcement:
It is with great joy the Conventual Franciscans received the news that Pope Francis has appointed our brother, Bishop-elect John Stowe, OFM Conv., to shepherd the Diocese of Lexington, Kentucky.  He is a man of deep faith and integrity, with a sharp and inquisitive intellect, all rooted in a genuine pastoral heart.