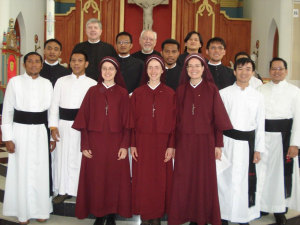 For those of you who have read Fr. Walter Ciszek's books, With God in Russia and He Leadeth Me, you will know of the struggles of Catholics in Far Eastern Russia. Father Ciszek endured many years of hard labor in prison camps in Siberia. Throughout his ordeal, beautifully and heart-renderingly portrayed in his books, he was always a priest. Nothing was dearer to him than the Russian people.
If you are interested in knowing about the revival of the Church in Eastern Russia, I suggest you receive the newsletter of the Mary Mother of God Mission Society. It documents the work of the Canons Regular of Jesus the Lord in Russia. In 1992, after the Soviet Union ceased to exist, two priests from the Midwest, Fr. Myron Effing, CJD and Fr. Daniel Maurer, CJD, arrived in Vladivostok to help re-establish the Church in eastern Russia. Since then—and with the mission society's help—they have founded or re-founded 11 Catholic parishes, have developed numerous charitable initiatives, have created a variety of catechetical programs, and done much more.
They have programs for alcoholics, college students, boy scouts, orphans, the elderly. They conduct pro-life work, bring sacred music to this once atheistic nation, rebuild churches, assign guardian angels ("grandmas") to orphans, and provide food and medical assistance to needy families.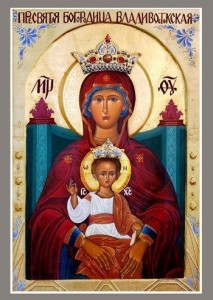 They are assisted by the Sisters in Jesus the Lord (Canonissae in Jesu Domino) who work in Russia with women, children and the elderly. They have woman's support centers in several Russian cities: Lesozavodsk, Vladivostok, Artyom, Arsenyev, Nakhodka and on Russian Island.
The Sisters in Jesus the Lord is a new Public Association of the Faithful in the diocese of Kansas City-St. Joseph, Missouri. Their ministries, at home and in Russia, include: pro-life work, music and liturgy, catechesis and evangelization, ministry to the sick and homebound, AVE media, and stewardship of the land.  Each year, they bring a busload of young men and women to the IRL's National Meeting.
I ordered a cookbook from the Society called Abundant Blessings, a compilation of recipes from the many cultures and countries of their priests, seminarians, sisters and families. Proceeds go towards the seminarians' education and the women's centers. God willing, they will also build a Catholic Church in Nakhodka called Our Lady of the Pacific.