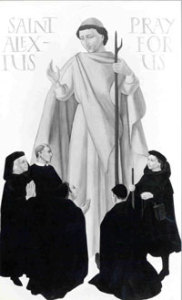 The Alexian Brothers are one of the newest IRL Affiliates, welcomed into the IRL family in March 2015.
You may think that the Alexian Brothers were founded by St. Alexius who lived in the 5th century. They did adopt this saint who was devoted to the poor and sick as the patron for their first chapel but this was not until around the year 1400. Over time, they became known as the Alexian Brothers. They do not have a founder, per se, rather their congregation evolved and formed because of celibate men who lived in community and tended the sick, fed the hungry and buried the dead. The first written account of their activities stems from the year 1259.
In a time when people were afraid of the sick and dying, their selfless acts of charity were very counter-cultural. With the advent of the Black Plague in the 14th century, they remained true to their calling and stayed by the side of the contagious sick. In 1472, the Alexian Brothers were recognized as a religious community under the rule of St. Augustine.
After the decimation suffered as a result of the French Revolution, only three Brothers were left in Aachen, Germany, site of one of their earliest foundations. In 1854, Brother Dominic Brock rebuilt the decimated community and their numbers grew once again. In 1866, Br. Bonaventure Thelen came to the United States and established the first Alexian Brothers Hospital in Chicago. Today, the Alexian Brothers are located in Germany, Belgium, England, Ireland, the Philippines, Hungary, and the United States.
Their charism is, in discipleship with Jesus, to reach out to the poor, sick and dying, especially the marginalized and the powerless — "Whatever you do to the least of these brothers of Mine, you do it to Me" (Mt 25:40).