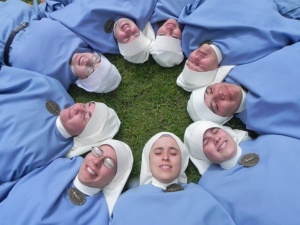 The Trinitarians of Mary is the newest IRL Affiliate Community. Founded in just 1992, they have experienced wonderful growth. The name of the community was inspired by St. Louis de Montfort who described Mary as "the Sanctuary of the Divinity, the Throne, the City, and the World of God." In other words, the first Trinitarian.
Their foundress is Mother Lillie who was born in San Diego and had a powerful spiritual experience in Fatima where she felt the calling to found a new order in the Catholic Church with the Eucharist at its center.  Through a life of prayer and penance the Trinitarians of Mary support the Catholic priesthood and the Church, opening their doors to all through monastic hospitality and retreats.
The community's first monastery was a leaky old camper on a mountain in Tecate, Mexico. From this "Mount Tabor," the sisters have helped thousands of needy families through the distribution of food, clothing, blankets, building supplies, medicine and religious education. They hope to build a conservatory for orphans and underprivileged girls in the near future. And many other plans are in the works.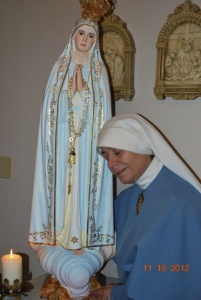 One particular expression of their contemplative vocation is rooted in the practice of perpetual Eucharistic Adoration. The hours each sister spends at Our Lord's feet in solitary adoration before the Blessed Sacrament gives meaning to her religious consecration. By their filial devotion to Mary, members desire to bring about the triumph of her Immaculate Heart by seeking to make her known and loved by all who come in contact with them.
They engage in monastic apostolates within the grounds of their monasteries that are compatible with and stem from their prayer. They welcome people from all walks of life whose spiritual and material needs brings them to their monasteries (two in Mexico and three in the U.S. – San Diego, Los Angeles, Grand Rapids). Their pray the Divine Office in Latin.
Our particular expression of the contemplative vocation is rooted in the practice of perpetual Eucharistic Adoration and is our way of continuing in the Church the presence and work of the Blessed Virgin Mary. 
We are called to love as she loved, by immersing our minds and hearts in God in a continual act of adoration, so that our entire lives  become "an expression of the love of the Son for the Father in the unity of the Holy Spirit" (VC,21). 
Taking her as our model, we seek to be vessels of the indwelling Trinityas we fix our gaze on the Eucharistic face of Christ.