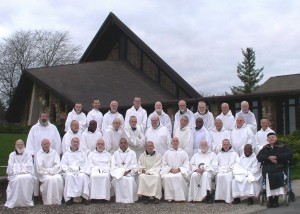 In the eleventh century, three monks departed from Molesme Abbey in France to found the first Cistercian monastery, Citeaux Abbey. By founding the order as a community, St. Robert, St. Alberic and St. Stephen emphasized the importance of common life within the Cistercian Order.
The Cistercian Order quickly grew particularly when St. Bernard of Clairvaux, whose feast we celebrate today, entered the monastery in 1112. The saint's entrance alone displayed the importance of community as he convinced thirty friends and relatives to enter with him! St. Bernard is known as the spiritual father of the Cistercian Order which continues to thrive throughout the world today.
The Abbey of Genesse is one monastery in the United States which belongs to the legacy of the founding community. Located in western New York, the Abbey of Genesse is a community of contemplative monks belonging to the Order of Cistercians of the Strict Observance (O.C.S.O.) commonly known as Trappists. The monks strive to seek God in a stable community they refer to as a "school of brotherly love." Those at the Abbey try to maintain an environment conducive to contemplation as they pray for the World and Church in their apostolate of prayer. The monks observe silence, speaking only when necessary in order to create an environment of prayer. In addition to prayer and contemplation, the monks engage in various labors in community throughout the day such as farming, cooking, maintenance, hospitality, formation, care of the infirm and bake their famous Monks' Bread.
The Diocese of Syracuse recently included the Abbey as a part of their summer pilgrimage webpage. The 3 minute video done by the Diocese gives a glimpse of what life is like for the community of monks and allows for insight into the legacy of Cistercians like St. Bernard of Clairvaux.