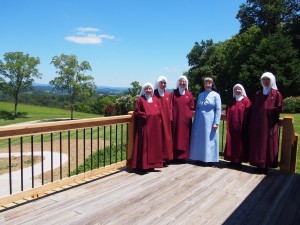 On the Feast of Our Lady of Mount Carmel, July 16th, 2015, the Handmaids of the Precious Blood moved to their new property in New Market, Tennessee. The Sisters sold their property in Jemez Springs, New Mexico recently and have found a new home overlooking the Holston River.
The Handmaids of the Precious Blood found east Tennessee to be "stunningly beautiful" as they looked for property after the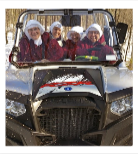 sale of their New Mexico monastery. They embarked on an adventure to find their new home and even explored on a borrowed ATV! After much prayer and with the blessing of Bishop Stika, the Sisters signed the papers to make the move to the future site of Cor Jesu Monastery official.
The Sisters are extremely grateful for all who aided them in their move. Despite the long day of moving, they made sure to first set up the Oratory where they will have their Divine Office together and their Holy Hours of Eucharistic Adoration. They said "it was only right to expose Our Lord in the Monstrance, sing 'O Salutaris Hostia' and kneel before the Master of our new house in deep thanksgiving."
Their beautiful new property in New Market is a 55 acre property overlooking the Holston River with the Smokey Mountains to the south and the Clinch Mountains to the north. You can view the property thanks to the work of Scott Maentz, their IT expert, who provided a bird's eye view by filming it with his drone. Please keep the Sisters in your prayers as they transition to their new home.