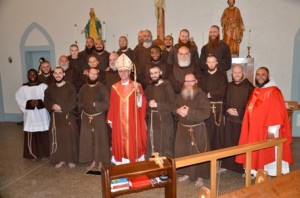 The Franciscan Brothers Minor of Fort Wayne, Indiana, totally dedicate themselves to the Blessed Virgin Mary by consecrating themselves to her and are one of the newest affiliate members of the Institute on Religious Life.
The Franciscan Brothers Minor are a Franciscan community which seeks to grow in holiness by emulating Our Lady. They take four vows including the evangelical counsels of poverty, chastity and obedience, as well as, a vow of total consecration to the Blessed Virgin Mary. They see this fourth Marian vow as the first and crowning jewel of the four vows. Through this vow the community seeks to model their lives in imitation of Our Lady and, as a result, grow closer to Christ. They base their lives off the rich Capuchin-Franciscan tradition and strictly adhere to the Rule of 1523.
The friars lead austere lives as they seek to imitate the poverty of the Seraphic Father, St. Francis of Assisi. The community does not run its own parishes, schools, shrines or other centers for apostolic works in order to maintain their community. The poverty of the friars can be clearly seen as they go barefoot. Poverty allows the friars to uphold freedom as a mendicant community.
The Franciscan Brothers Minor enjoy a special relationship with Most Rev. Kevin C. Rhoades who initially established the community in the Diocese of Harrisburg, PA, on November 19, 2009. The friars moved to Indiana after Bishop Rhodes was transferred to the Diocese of Fort Wayne-South Bend in 2010. His Excellency officially erected the Franciscan Brothers Minor as a public association of the faithful on February 11, 2011.
All of the apostolic efforts which the Franciscan Brothers Minor undertake are done in service of the Blessed Virgin Mary. The friars work to promote life through pro-life ministries, serve the poor and host retreats. They also provide spiritual assistance to the Franciscan Sisters Minor, a Third Order Regular Community of Cloistered Franciscan women, though there is no juridical connection to the Franciscan Brothers Minor. This new community of Franciscan friars is quickly growing with nine friars having taken perpetual vows, eleven in temporary vows and six novices.