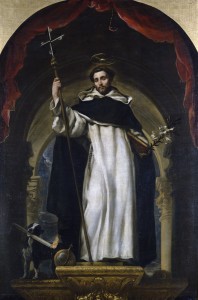 Pregnant and on pilgrimage to the Abbey at Silos, Juanna of Aza dreamed of a dog springing forth from her womb with a torch in his mouth that seemed to set the world ablaze. The child whom Juanna carried at the time of her pilgrimage was St. Dominic, founder of the Order of Preachers. The dream came be understood as St. Dominic and his order setting the world ablaze with the love of Christ, as the Order of Preachers was "established, from the beginning, for preaching and the salvation of souls."
Dominicans continue to preach but the means in which they do so has changed dramatically, allowing them to reach a global audience by utilizing the latest technology. Dominicans are responding to Inter Mirifica which says, "media, if properly utilized, can be of great service to mankind, since they greatly contribute to men's entertainment and instruction as well as to the spread and support of the Kingdom of God." They have taken this as a charge to utilize technology in a way that aids people on their journey to find the Lord.
One Dominican affiliate of the IRL which is leading the way in the utilization of modern media is the Dominican Sisters of Mary, Mother of the Eucharist. Since appearing on Oprah, the Ann Arbor Dominicans have begun a new endeavor in an attempt to catechize through global network television by teaming up with EWTN. Their current show, Catechesis: Communion with Jesus Christ, aims to provide a basis for catechetical instruction. By appearing on television, the sisters are able to preach the truths of the Catholic Faith to an international audience.
The Dominican Friars of the Province of St. Joseph are also following in the footsteps of their founder and seek new ways to preach the Gospel. One ministry which the Eastern Province has undertaken seeks to evangelize the culture through first-class productions of film and media. Blackfriars Media explores the drama and mystery of God and man in productions such as Empire of the Cross, a documentary which examines the artistic and architectural features of the famed Basilica of Saint Clement in Rome. The friars have produced many works and recently released an app for better accessibility which allows their message to reach an even larger audience.
The Dominican Sisters of Mary, Mother of the Eucharist and the Dominican Friars of the Province of St. Joseph are preaching the Gospel in ways that reach millions of people starving for Truth. By utilizing innovative technology, the Dominicans are proclaiming the joy of the Gospel and setting the world ablaze with love of Christ today.