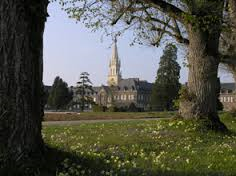 While visiting France in the Fall of 1995, I had the good fortune to stay for a few days at the Little Sisters of the Poor Motherhouse in Brittany, France. What a blessing to be able to pray in the crypt of the church next to the tomb of their foundress, St. Jeanne Jugan. Most wonderful of all, was the warm welcome received by me from all of the sisters, particularly Sr. Marie-Pierre who looked after me like a mother. I should have expected this because the Little Sister's fourth vow is hospitality.
The Little Sisters receive their formation at the motherhouse called La Tour Saint Joseph. What a joy to see sisters from all over the world gather together to form one family of faith dedicated to caring for God's little ones on earth, the elderly poor.
I had the pleasure of meeting the Mother General, and also Mother Celine de la Visitation, who was kind enough to issue me the invitation to stay. I mention all of this because Mother Celine was elected Mother General the following year and served in that capacity for the next 19 years. On September 8th, it was announced that the Little Sisters had elected a new Superior General, Sister María del Monte Auxiliadora as their first Spanish superior general! It was accompanied by the singing of the Te Deum and a flurry of calls and emails back home.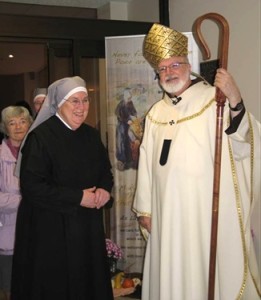 Mother María was elected to the General Council in 2009 and is originally from Seville, Spain, where she was provincial superior and mistress of novices in the Spanish novitiate. Five other sisters were also elected to the General Council reflecting the international flavor of their Congregation: Sisters Nicole Emmanuel and Benoît de Ste. Bernadette from France; Sister Joseph Christine, from Scotland; Sister Patricia Ivonne del Espíritu Santo, from Chile and Sister Maria Clarette, from Sri Lanka. Mother Celine, originally from San Francisco, California, will remain in the General Council, assuming the role of Vicar General.
Please pray for the Little Sisters in this time of transition and as they continue their religious freedom legal battle, one that will greatly influence our own ability to uphold our Catholic faith in the public arena.