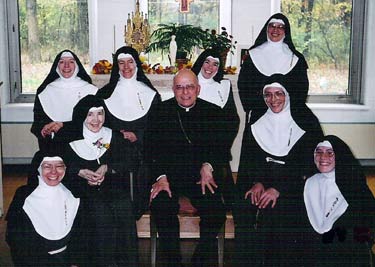 Aspiring to attend college, get married and have many children, Mother Mary Teresita of Jesus' plans changed dramatically when she chose to follow God's call to become a Poor Clare.
Mother Abbess Mary Teresita of Jesus heard God calling her to impact the world by pursing a religious vocation. After reading Mother Mary Francis' book A Right to be Merry, she knew that God was asking her to serve Him in a cloistered community. In 1963, Mother Mary Teresita entered the Poor Clare monastery in Roswell New Mexico, the same monastery which Mother Mary Francis belonged to. She has since relocated to Chicago re-establishing the Order there at the invitation of Cardinal George.
Mother Mary Teresita's life as a Poor Clare is one primarily of prayer with day punctuated with prayer every three hours beginning at midnight. She says that rising to pray at night is like keeping her lamp ready as you do not know the hour when Christ will return. In between prayer Mother Teresita works, mainly in silence. All of the Poor Clares in community tend a garden, bake, mend clothes and make items to sell at their gift shop. They also keep a perpetual fast abstaining from meat and partaking in simple meals. Their breakfast is coffee and bread followed by lunch which is a vegetable, potato and a "third portion," typically a cheese or eggs for protein, lastly, the sisters eat dinner which is comprised of bread and milk with cheese or nuts.
Mother Mary Teresita of Jesus and all the Poor Clares in Palos Park pray for the Church and the world. All benefit spiritually from the hidden lives of these dedicated religious women. For a better glimpse into their lives, read , the book which inspired Mother Mary Teresita to pursue a her vocation with a cloistered community, A Right to Be Merry by Mother Mary Francis.