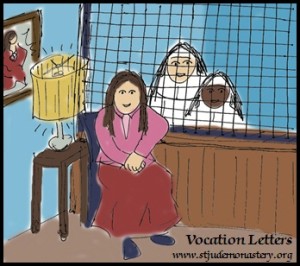 The Dominican Nuns in Marbury, Alabama, have issued a series of letters between a woman (fictional) discerning a vocation and a Dominican nun. The names may have been changed to protect the innocent (as they said in the old Dragnet series) but the letters do accurately depict Dominican monastic life as it is typically lived at Marbury. The sisters wish to keep their day-to-day life veiled behind the enclosure but you get a good glimpse of Dominican life behind the walls as you read on!
"Melanie" writes to the Novice Mistress "Magistra" which is Latin for "lady teacher." Melanie also writes to her sister "Clare" who is curious about her "Come & See" visit to the monastery. After she enters the monastery, she writes to her family. Here are some excerpts:
It seems to be a common misconception that "extroverts should be active, introverts should be contemplative.  However our community history does not bear that out…. God calls people of all temperaments to live for Him in the contemplative life…. From Sr. Mary Magistra
It is a great motive for fidelity and joy in living our cloistered, contemplative life, to know that we are living it on behalf of and in union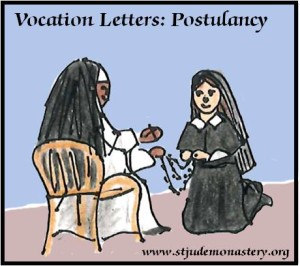 with our brethren the Dominican friars (and the other members of the Dominican family) in their consecration to God and in their preaching for the salvation of souls. From Sr. Mary Magistra
When Mom and Dad experience first-hand the peace to be found here, and see for themselves the joy of the nuns, they understand much better why such a life could be attractive and fulfilling for their own child. From Sr. Mary Magistra

When is the best time to enter religious life? Without delay. From Sr. Mary Magistra

(Melanie, writing to her family after entering) Since this was my first time being here in the monastery for the Paschal Triduum, I had to use of lot of energy just following everything and trying to turn the page at the right time, but I am so looking forward to having these ceremonies grow into a part of me over the years….  It is truly the liturgy that gives direction and movement to our lives, drawing us ever deeper each year into union with the Mysteries of Christ, "whom we desire to love solely."
The letters are accompanied by charming pictures. As a visitor to Marbury last spring, I can vouch for the accuracy of the images!
For more information, visit the Marbury website.