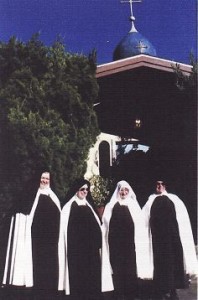 On a rainy day in November, 1965, Mother Dolores and nine other nuns from the Carmelite Monastery of Carmel-by-the-Sea founded a new monastery in San Rafael, California. Mother Dolores, now 93, and the other nuns of the now Carmelite Monastery of the Mother of God are joyously celebrating the 50th anniversary of this event throughout the month of November.
The now Carmelite Monastery of the Mother of God has been striving to respond to Our Lady of Fatima's message regarding praying for the conversion of sinners and Russian people since its foundation. Early on the sisters learned to sing the Byzantine Liturgy with hopes of one day founding a Carmel in Russia. Fr. Loius Bouier suggested that they first make a foundation in Finland.  Following the fall of communism, the sisters  opened a small foundation in Moscow. The venture proved to be impractical and the sisters sold the small monastery to the Divine Word Missionaries who used it to establish a St. Olga's Catholic Parish which the Carmelites still prayerfully support.
The Carmelite Monastery of the Mother of God is a truly universal one with sisters from all over the world including sisters from four different continents. The sisters enjoy a peaceful setting with over 400 redwood trees on the monastery grounds creating a place conducive to prayer.  The Monastery has matured immensely since its initial foundation in 1965.
78 people attended the first of three Masses commemorating the 50th Anniversary of the Monastery's founding. The Mass was celebrated by Most Rev. John C. Wester, Archbishop of Santa Fe on Nov 1st, All Saints Day. In his homily, Archbishop Wester emphasized the sisters' Reliance on Divine Providence saying, "my dear sisters, you are living examples of this because you believe in a God who actively works in you in very beautiful ways. It's not always been easy, but you take on our sufferings and make them your own."