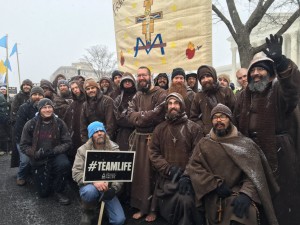 In January, Fr. David Mary and eight Franciscan Brothers Minor from Fort Wayne as well as the Catholics on a Mission team traveled to Costa Rica to minister to the local Costa Rican and indigenous Cabecar people. This is a remote jungle area were homes have dirt floors and the indigenous people share shelter with their animals.
While there, they hosted a Vacation Bible School for the children and shared personal faith testimonies. Most people in the region are able to receive the sacraments only once a month, so it was a blessing that Mass was celebrated at least once a day with people
living in remote villages. As a result of past trips, 60-70 Cabecar now attend Mass regularly and the first, First Communion class in hundreds of years is now a reality!
Franciscans came to Costa Rica in the 16th century with Christopher Columbus and evangelized the indigenous people who began to embrace the Faith. When a tribe from a different area killed a friar and some of the converts, the Franciscans left to prevent further bloodshed. Over the years, a prophecy arose, a promise from St. Joseph, that one day radical barefoot Franciscans would return and bring them the Gospel. In 2013, this became a reality when the Franciscans from Fort Wayne arrived.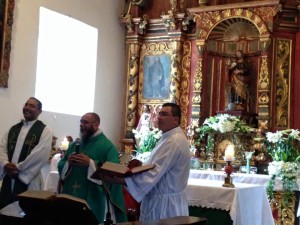 A bishop told them that they were the first Franciscans to set foot in the Cabecar territory in 250 years. Since that time, the Friars have established a partnership with Catholics on a Mission and the St. Bryce Foundation to continue these evangelization efforts. The 2016 mission trip coincided with the 250th anniversary of the completion of Iglesia de San Jose de Orosi, the chapel built in 1766 from the vision of St. Joseph.
Who are Catholics on a Mission? It was started in 2012 when several high school students who were actively involved in the Franciscan Brothers Minor youth group approached Fr. David Mary Engo with the idea to "put their service where their faith is," and share the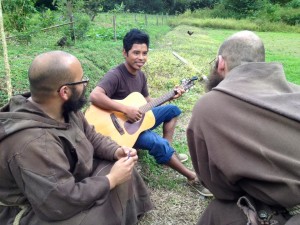 gospel with people in a foreign country. Catholics on a Mission has become a student-driven service organization evangelizing parishes, cities and the world through the Spiritual and Corporal Works of Mercy.
Following the exhortation of Pope John Paul in Redemptoris Missio, they believe that "the moment has come to commit all of the Church's energies to a new evangelization and to the mission ad gentes. No believer in Christ, no institution of the Church can avoid this supreme duty: to proclaim Christ to all peoples."