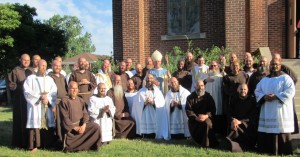 One of the IRL's youngest communities is quickly growing in northern Indiana. The Franciscan Brothers Minor of Fort Wayne, IN welcomed several men into their community this past month through profession of vows and are rapidly expanding after being founded just seven years ago.
The Franciscan Brothers Minor celebrated throughout the month of May with men in formation being invested with their habit and professing vows. They welcomed ten new novices when Most Rev. Kevin C. Rhoades, Bishop of the Diocese Fort Wayne-South Bend, invested them with their habits on May 18th. The celebrations continued that evening when four friars professed temporary vows. The friars then concluded the month with the solemn profession of vows by three friars on May 31st.
The Franciscan Brothers Minor have grown quickly since their founding as they have tried to grow in holiness by imitating Our Lady through their Marian vow. They strive to observe the Gospel according to the Rule, Testament and the life of Saint Francis of Assisi. It is appropriate that this young community that honors Our Lady welcomed ten novices, four friars in temporary profession and three in solemn profession in May, the month of Mary.