Most Rev. Thomas G. Doran, IRL President from 1997-2010, died on September 9, 2016, after a long illness. He was 80 years old.
Bishop Doran is remembered fondly by IRL National Meeting banquet attendees for his humor, incisive comments and conciseness in moving along a banquet program. He was so supportive of the IRL as President and always accessible when something needed to be taken care of.
Bishop Doran was born on February 20, 1936, in Rockford, Illinois, in the very diocese he would later shepherd. After completing his classical and philosophical studies at St. Pius X Seminary at Loras College, he  pursued his theological studies in Rome at the Pontifical Gregorian University and received his priestly formation at The Pontifical North American College, Vatican City.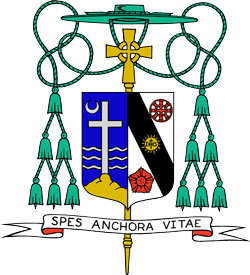 A friend said of him: "He would do anything he could to further the Catholic Church. He was very reverent and proud of his priesthood…He always had his collar on."
Bishop Doran was ordained in 1961 and as an expert in Canon Law, served as a judge at the Tribunal of Roman Rota until 1994, when he became bishop. At his funeral Mass, Archbishop Blase Cupich said: "I've known Bishop Doran for almost 30 years as an individual who had a keen mind, a quick wit, but also the ability to do really hard work. He was a man who really not only preached the Gospel, but lived it."
His successor, Bishop David Malloy, 9th bishop of Rockford, said that Bishop Doran "believed to his core that Jesus was the Son of God who died for us and that the human race is saved in the name of no other." May we all have that firm belief.
Thank you, Bishop Doran.