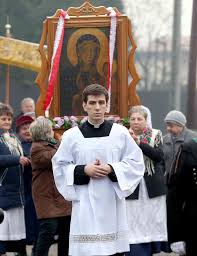 On May 29th, the Prime Minister of Poland, Beata Szydlo, and her husband, Edward, had the unique privilege of attending the first Mass of her newly ordained son, Fr. Tymoteusz Szydlo, at their home parish of Our Lady of Częstochowa in Przecieszyn in southern Poland. Father Szydlo is a member of the Priestly Fraternity of St. Peter, an order founded in 1988 and known for celebrating Mass in the Extraordinary Form. "Human words are unable to express the gratitude I owe You, my God," Father said. "Therefore, I humbly ask You to keep me in Your holy service."
The Priestly Fraternity of St. Peter was founded at the Abbey of Hauterive in Switzerland by a dozen priests and a score of seminarians. Their mission is the formation and sanctification of their priests, using the traditional liturgy of the Roman Rite to worship Our Lord and to serve the Church across the world. Shortly after their foundation, they moved to Germany, which is now the location of their European seminary. They also have a house of formation in Denton, Nebraska. Currently, there are 270 priests and 132 seminarians in the Fraternity serving in 124 dioceses including 34 in the United States.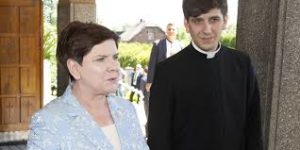 "This is not an easy road," the Prime Minister said. "especially these days I think young people like them have an extremely important mission to fulfill. I'm keeping my fingers crossed for … all of my son's fellow seminarians and for my son. I hope they will persevere and do a lot of good for everyone, for all of us. They are wonderful young people."
Visit the FSSP website for more information.
Using the ancient liturgy as our well-spring, we form our priests in the traditions of the Church to serve at the altar and in the parish so that the fullness of Christ might enter the emptiness of the world.