Saint Paul in his epistle to the Hebrews writes that the Christian virtue of "Hope" is set before us as "an anchor of the soul, sure and firm." (cf. Heb 6:19) The anchor of a ship is that substantial piece of equipment that when thrown down, grabs hold of the solid sea bed below.  The winds may blow and the waves crash about, but the anchor provides security and stability until the skies clear and the waves calm.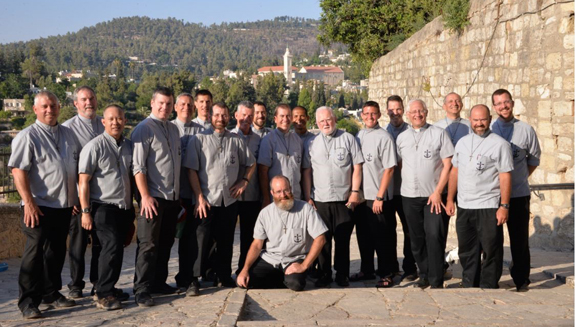 The community of religious brothers called the Brotherhood of Hope was founded in 1980 by Father Philip Merdinger.  With their motto as "Primum Deus, Deus Solum", Latin for "God First, God alone", this community  based in Boston, MA wears on their habit the Anchor.
With 18 young men in Brotherhood formation as of this writing, these serious, yet joyful men prepare to labor in the harvest of the Lord with a zeal for the "lost sheep", particularly college students and young adults who are especially vulnerable to being lost in the storms of the increasingly secularized and hostile culture with its many allurements and distractions.
From the earliest days of the Church, the Anchor has served as a powerful symbol of Hope in Christ our Resurrected Savior and His promise of eternal salvation, with countless examples found on the epitaphs of the faithful departed within the catacombs in Rome.
The important work of the Brothers is that in their apostolate, in their fidelity to Christ and to the Church and their works of mercy, they inspire Hope and demonstrate the "freedom of the glory of the children of God" (Rom 8:21)