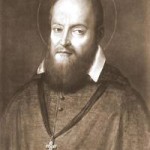 Today we celebrate the Feast Day of St. Francis de Sales (1567-1622) : Bishop, Evangelist and Spiritual Director.
Though he died almost 400 years ago, his words of wisdom for those desiring to deepen their spiritual life are as pertinent today as they were then. He presented a wonderful image to keep in mind on the value of  receiving of Holy Communion regularly: "As the hares living in our snowy mountains grow white from living in the snow, so by perpetually worshiping and adoring beauty, goodness and purity in this Divine Sacrament, you, too, will become beautiful, good and pure" (An Introduction to the Devout Life).
St. Francis de Sales, pray for us and for the Church.