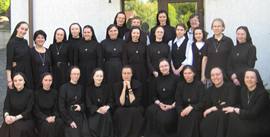 "The people bear witness to their faith quite openly." With these words, Sister Margret Obereder, Provincial Mother Superior of the Redemptoristine Order in the Ukraine, described the religious revival in that East European country.
In this post at the Aid to the Church in Need website, author Michael Varenne reports that the Conference of Mothers Superior of Orders of the Greek-Catholic Church in the Ukraine, which is headed by Sister Obereder, now has a membership of 19 religious order communities with 850 Sisters.
In the last few years, 24 young women have joined the Order of Redemptoristines alone. They are active in five parishes in Lviv, Kamianets-Podilskyi, Ternopil and Chernihiv, especially in the area of youth ministry.