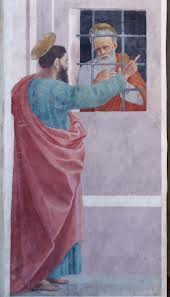 We regularly get letters from prisoners, and some have renown as published authors, recounting their conversion stories and evangelization efforts behind bars. One man named John Ballentine recently wrote to tell us about a story of his that was published in Homiletic & Pastoral Review (available online).
In the article, entitled "The Power of the Religious Habit," he recounts the impact that one small religious sister had on a prison simply because she was wearing the visible sign of her consecration to God. Sr. Mary Brendon Zajac, S.N.D., (or Sister Z as she is called) visited John or as he calls himself "this social leper in his Virginia prison."
Here are John's words describing sister's entrance into the prison visiting room:
From the looks on people's faces that day in the visiting room, it was evident that Sister Z's habit conveyed to them something of the reality of the Incarnation, of the human linked to the divine, the subjective to the objective, the deeply personal to the institutional. The habit suggested that she was grafted onto the Vine, the supernatural cause of all natural beauty, natural life, and natural power.
To John, Sister Z was a light reflecting the Son, reminding us of the words of St. Francis: Preach the Gospel always, when necessary use words. In his story, John talks about a tough prison guard who was drawn to sister and experienced a conversion of heart. Not only that, after this encounter, John too had a different relationship with this guard, much to his friends' astonishment.
Read the complete story here. And pray for prison chaplains and those they serve. Like the military, prisoners suffer from lack of presence, ie, lack of those willing to bring the light of Christ to them.