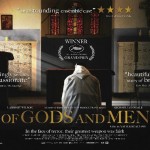 Of Gods and Men opened last week in several theaters across the United States. It's a true story about a group of Trappist monks, stationed in an impoverished Algerian community under threat from fundamentalist terrorists, who must decide whether to stay or leave.
Catholic movie critic Stephen Greydanus  calls the French film "last year's most profoundly and transcendently religious film—conspicuously not nominated [for an Academy award]." However, it has received other awards, including the grand prize at the Cannes film festival.
Of Gods and Men had a "monastic adviser" on the set to help the film makers realistically depict the hidden lives of the French monks who are at the main protagonists of the story. 
The film may be a little graphic and intense for children, but otherwise this beautiful, meditative film is highly recommended. Here are a couple reviews:
And here's the official trailer: Of Gods and Men – official trailer HD