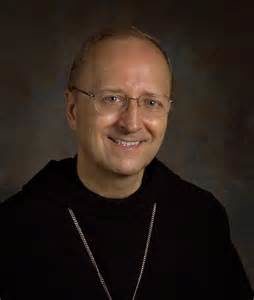 On September 10, 2016, Abbot Gregory Polan, O.S.B., of Conception Abbey, Conception, MO, was elected 10th Abbot Primate of Benedictine Confederation.  The election took place in Rome, Italy, at the Congress of Abbots, held every four years. He is the fourth American and the second abbot from Conception Abbey to be elected to the Office of Abbot Primate.
Abbot Gregory Polan was born on January 2, 1950 in Berwyn, IL, to Martha and Edward Polan. During his high school years, he was deeply involved in studies, sports, and extracurricular activities—all dedicated toward building a community. Attending college seminary is where he was drawn to the common life, where his love for the liturgy and music would be central. He visited Conception Seminary College and said it was "love at first sight." He knew he would spend the rest of his life there. Abbot Gregory was professed in 1971 and ordained in 1977. While at Conception Abbey for some time, his faith and commitment to the Benedictine community grew and the monks of Conception elected him as their 9th abbot in November of 1996.
Abbot Gregory has led Conception Abbey for the past 20 years as its abbot, and as president-rector of Conception Seminary College for ten years. He is a scholar in Scripture and Theology and has contributed to the translations for the New American Bible and a complete translation of the Psalms which will be used in the liturgy. He will resign as abbot of Conception Abbey and accept this new position with great solicitude and honor from the Conception community.
The ministry of the Primas, according to the Proper Law which governs the Confederation of Congregations of Monasteries of the Order of Saint Benedict, is defined as "the office of the Abbot Primate whose function it is to represent the Confederation and to do all he can to foster co-operation between the confederated monasteries."  As the head of the world's 7,000 Benedictine monks, he will become the abbot of the monastery Sant' Anselmo in Rome, where he will reside and serve as abbot primate of the Benedictine community as its liaison to the Vatican and civil authorities. He will also become head of Benedictine University in Rome.
"Abbot Gregory brings many years of leadership experience and spiritual wisdom to the role of Abbot Primate. We are happy that his gifts, which he has given so freely at Conception Abbey for many years, will now be shared with the entire order and Church," Fr. Daniel Petsche, O.S.B., Prior of Conception Abbey said on Abbot Gregory's election. "I believe his gifts will reach fulfillment in this new role."