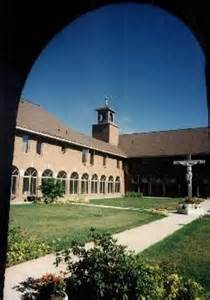 In 2016, the Carmelite Nuns in Ada, Michigan, will be celebrating the 100th anniversary of their founding. In 1916,  sixteen Carmelite nuns (12 professed and four postulants) fled the terror and raging persecution in Mexico and came to the United States.
After traveling to Cuba, New Orleans and Saint Louis, they finally found a home in the Diocese of Grand Rapids under the paternal care of Bishop Henry Joseph Richter. Their monastery was placed under the patronage of Our Lady of Guadalupe.  From this sacrifice of family and country came bountiful blessings. New foundations bloomed from Grand Rapids back to Mexico in 1919, then Buffalo, Detroit, Littleton, Traverse City, Iron Mountain and Denmark (WI).
Their original frame house in Grand Rapids was expanded and added on to many times to accommodate growth. Finally, in 1984, they were given ten rural acres outside of town in which to build a permanent, quieter home. They moved to Ada (Parnell), Michigan, in 1991.
This year, the are celebrating the 500th anniversary of their foundress' birth. Commenting on St. Teresa of Avila, foundress of the Discalced Carmelites, Pope Francis said: "(Teresa) asked her sisters not to waste time discussing 'matters of little importance' with God while 'the world is in flames.'"
Be rooted in prayer, in communion with Jesus. Pope Francis said: "The prayer of Teresa was not a prayer reserved solely to a space or time of day; it arose spontaneously on the most diverse occasions. … She was convinced of the value of continual, if not always perfect, prayer. … To renew consecrated life today, Teresa has left us a great heritage full of concrete suggestions, ways and methods of praying that, far from closing us in ourselves or leading us merely to inner balance, enable us always to start again from Jesus, and constitute a genuine school for growth in love for God and neighbor."